What's Included
A total of 15 coffees and mocha creamers:
1 Classic Mocha Latte Kit
1 Mint Mocha Latte Kit
1 Raspberry Mocha Latte Kit
A reason to have chocolate for breakfast? Say no more! Our Mocha Bundle includes three chocolate-lover-approved customer favorites: Classic Mocha, Mint Mocha, and Raspberry Mocha.
Ingredients: Vietnamese Coffee, Mint, Raspberry Powder, Milk, Sugar, Cocoa Powder processed with alkali
Amount Per Serving
Calories
100
Total Fat
2.5g
Saturated Fat
1.5g
Trans Fat
0g
Cholesterol
5mg
Sodium
30mg
Total Carbohydrate
17g
Dietary Fiber
0g
Sugars
16g
Proteins
2g

*2,000 calories a day is used for general nutrition advice, but calorie needs vary.
Add hot water

With your filter on your cup, pour 1 oz. of hot water to soak your coffee for 30 seconds. Pour remaining water into your filter to achieve your preferred strength.

Add your creamer

Add as much of our sweetened creamer to your taste then stir it into your coffee.
Prep

Hang your filter over your cup, and heat water.

Brew

With hot water, wet your grounds then wait for 15 seconds. Fill up the filter 2 times. Be careful not to overfill.

Add creamer and ice

Add your creamer and stir in ice. Enjoy!
Prep

Put the desired number of unopened coffee filters into a sealable container. (1 per cup of coffee).

Brew

Add 6 oz of water per filter. Seal the container and let it sit 8 hours or overnight.

Enjoy

Remove your filters, add ice and enjoy!
What We Love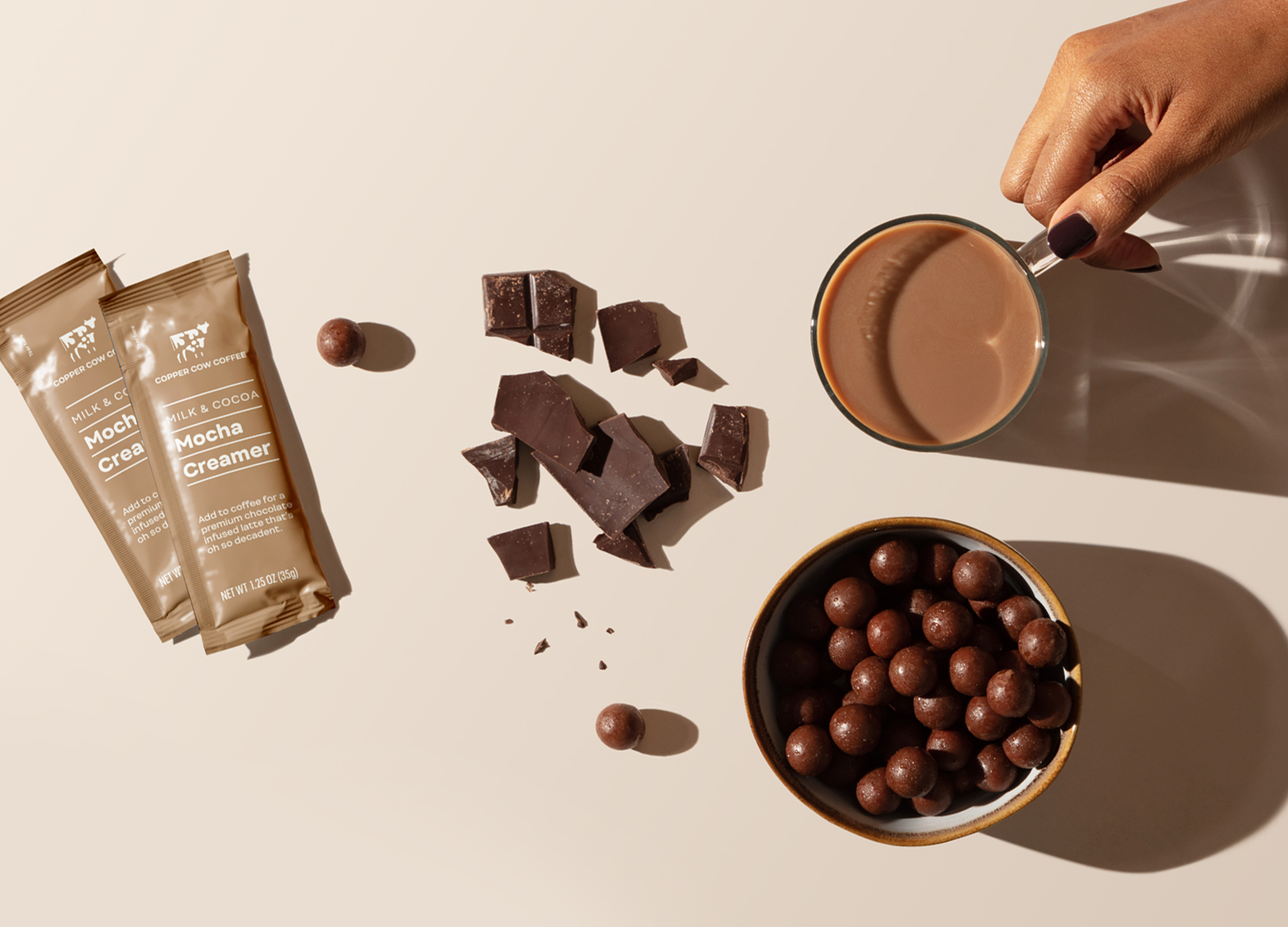 A Mocha for Every Mood
Whether you brew up a Classic Mocha, keep it cool with Mint Mocha, or bring a little razzle dazzle to your routine with Raspberry Mocha, this chocolate-y bundle gives every day that Saturday morning feeling. Our first-of-its-kind Mocha Creamer is made with just real milk, sugar, and cocoa powder for a delightfully decadent treat without the fake flavors and syrups. And at just 100 calories per latte, it only tastes like a dessert!
Pour. Sip. Savor.
In 90 seconds, our single serve filters will brew a rich Vietnamese-style cup of coffee perfection. Add our sweetened all-natural creamer to complete your coffee experience.
Feedback from our brewers